In the Winter 1982 issue of Motheroot Journal, Tanya Watkin's reviewed it's like this by doris davenport.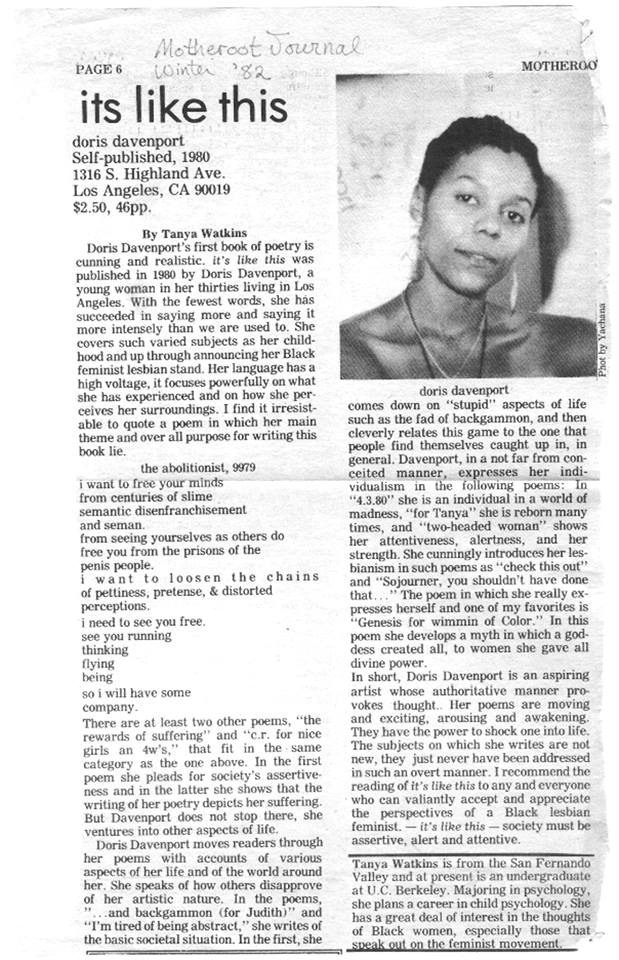 Heartfelt thanks to Sherry Stoll for sharing the scan of the original review.
Other praise for it's like this:
Cynthia Rose Howard wrote, "just read up to c.r. and 4/w's...my first intials...c.r. and it was healing...thank you for writing sharing being. GOD BLESS."
Jean Weisinger wrote, "Doris, read your interview love it!"
Judith K. Witherow wrote, "The re-release of doris davenport's poetry reads like words that have dripped from my pen. I asked my love of triple decades to read her poems. I wanted to see if what I saw was real or imagination playing tricks. She agreed we were sisters inked together. Maybe the fact that doris and I took root at separate ends of the Appalachians is the bond. North running to south allows words and water to run freely. Mid-wives and wimmin folk were the ones who shaped our life and learning. Whatever the reason--"it's like this" sure let love, leavin' and line by line learning a forever craving."